CALL 811 Before You Dig
It's now easier than ever to contact MISS DIG 811 either by phone or online.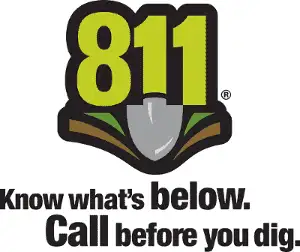 MISS DIG offers 811, a toll-free, nationwide "Call Before You Dig" number. Just dial 811 and your call will be routed to the local Call Before You Dig system, and quickly begin the process of getting underground utility lines marked. MISS DIG 811 System, Inc. will notify affected member utility companies to send crews to mark underground lines for free.
Why call MISS DIG 811?
Michigan law requires property owners to contact MISS DIG 811 three business days before beginning any project involving digging. This helps avoid possible injuries or damage to natural gas and oil lines, electric, telephone, TV cable, and water or sewer facilities. Failure to call MISS DIG 811 could leave you facing costly repair bills for damaged utility-owned lines.
What MISS DIG 811 does not cover?
Also be aware that, if you have any "customer-owned" pipes or lines in a project area, you are responsible for locating and marking them before your project begins. Customer-owned pipes and lines are between the meter and your appliance. These include connections to yard lights, pool and spa heaters, garages, workshops and similar areas.
To learn more about the MISS DIG 811 program, visit www.missdig811.org.