Natural Gas Safety Facts
As part of the ongoing effort to educate customers on natural gas safety, SEMCO ENERGY Gas Company presents these facts about gas safety:
Natural gas is colorless and tasteless. To help you to recognize the presence of natural gas, SEMCO adds an odor similar to rotten eggs.
Natural gas is lighter than air, rises quickly, and spreads out harmlessly in open areas. However, in an enclosed area, natural gas displaces air at ceiling level and fills the room from the ceiling down.
Natural gas is not Liquefied Petroleum Gas (LPG). Liquefied petroleum gasses, such as propane, are heavier than air, and unlike natural gas, will collect in low places.
Natural gas is not toxic or poisonous. However, as natural gas fills an enclosed space, it displaces air and suffocation can occur.
Natural gas cannot burn without oxygen. For natural gas to burn, it must be mixed with air and must have an ignition source, such as a pilot light or electric arc from a light switch, electric motor, doorbell, or telephone.
Burning natural gas will not explode. In many cases, it is better to let the natural gas burn than to extinguish the fire. If the fire is extinguished prior to stopping the flow of gas, the gas has the potential to build-up to an explosive level.
If you suspect a gas leak, leave the building or area immediately and call SEMCO from another location. Report gas leaks and related emergencies to the SEMCO ENERGY's Gas Leak/Emergency line, 1-888-GAS-1-GAS (1-888-427-1427), 24 hours a day, seven days a week.
Equipment Safety
Hands off for Safety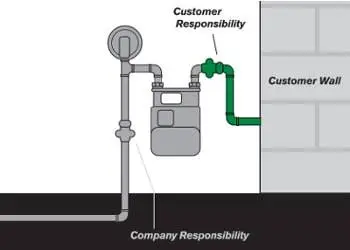 SEMCO reminds its customers not to attempt to service any natural gas equipment between their main and the meter - no matter how simple the procedure may seem.
All equipment from the service main, up to and including the meter, is SEMCO property and should be serviced and maintained only by SEMCO technicians or by a certified contractor. Customer-owned gas lines and connections between the meter and your home should be serviced by a certified private contractor.
If you need to have the gas to your home temporarily turned off for any reason, please contact SEMCO at 1-800-624-2019 to schedule an appointment for a SEMCO technician to turn off the gas, and also restore gas service. Turning the valve leading to the meter on or off, or operating any SEMCO equipment yourself, could result in a serious safety hazard. Adjusting any gas company equipment also can result in legal action by SEMCO. Remember, natural gas is a safe, efficient, and economical fuel when connected and maintained by trained professionals.
Customer Piping and Responsibilities
Customer-owned pipes and lines are between the meter and your appliance. These include underground lines to yard lights, pool and spa heaters, garages, workshops, and similar areas. Please be aware that, if you have any underground customer-owned lines in a project area, you are responsible for contacting MISS DIG 811 to locate and mark them or other underground facilities before your project begins. Take care if excavating in the area, to avoid damage to underground utilities.
If you are a SEMCO customer, please be aware that:
SEMCO does not maintain the piping (buried or above ground) past your meter.
If your piping is not maintained, it may be subject to the potential hazards of corrosion (metal piping) and leakage (plastic or metal piping).
Your gas piping should be periodically inspected for corrosion and leakage and should be repaired if any unsafe condition is discovered.
If excavation is to take place near your gas piping, you are responsible for contacting MISS DIG 811 to locate and mark your piping prior to the excavation.
If you have questions or need any additional information, please contact Customer Service at 1-800-624-2019.
Verifying SEMCO ENERGY Employees
Your safety is the top concern. Please do not allow anyone into your home or give money to anyone who claims to be from SEMCO without verifying that they have proper photo identification.
SEMCO takes extensive measures to ensure that every SEMCO Service Technician is clearly identified. All technicians are in uniform and carry a SEMCO employee photo identification badge. Finally, SEMCO trucks are white with the SEMCO ENERGY logo on the both sides. If you are ever in doubt, please contact SEMCO by phone, 1-800-624-2019.